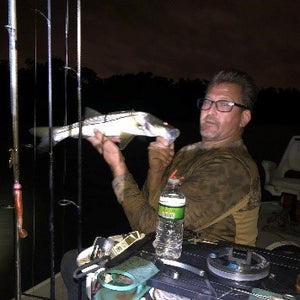 Our Favorite Snook Recipe
Ready to see what all the fuss is about?  The delicious white meat of snook makes a great meal.  Snook are easy to clean too!  Best to get yourself a Real Men Prey Fishing Fillet Knife to get the job done right. 
The good news is that it's pretty easy to fry a snook to perfection.
Here's what you will need:
Oil - (vegetable, grapeseed, canola or peanut) – we prefer peanut oil
¾ cup finely ground cornmeal (do not use coarse)
½ cup flour
1 ½ cups buttermilk
2 tbsp Jimmy P's Seasoning – the secret ingredient!
1 lb Snook fillets
Potato bread
Your favorite condiments
Instructions:
Once the fillets are patted dry, put them in a shallow dish and pour the buttermilk over them. Refrigerate for 20 minutes or more.
Heat ½ inch of oil over medium-high heat in a cast iron skillet to a temperature of 350-375.
Mix the cornmeal, flour and seasoning in a shallow dish
Remove each fillet from the buttermilk, let the excess drip off, then roll in the cornmeal mixture.
Add the fillets to the skillet. Once the bottom turns golden brown, flip them over and brown the other side. 
Remove each fillet and place on a dish lined with paper towels to absorb the excess oil.
Serve on a healthy slice of toasted potato bread with your choice of condiments for a man size sandwich!
Got a favorite snook recipe?  Share it on our social media at Facebook, Twitter or Instagram. 
Enjoy!
---